STEAMBOAT ARCHIVE PAGE

LAST UPDATE 30 September 2015

* * * * * * * * * * * * * * * * * * * * * *

The Lee's Mills Annual Steamboat Meet
is held in September each year

FROM THE SECOND SATURDAY THROUGH THE THIRD SUNDAY

,
a total of 9 days

Moultonboro, NH

(sometimes spelled Moultonborough. After all, this is New Hampshire!)

Follow signs to the Loon Center and continue about 2000 feet to docks

CLICK HERE FOR A FEW PICTURES FROM THE 2009

LEES MILL

MEET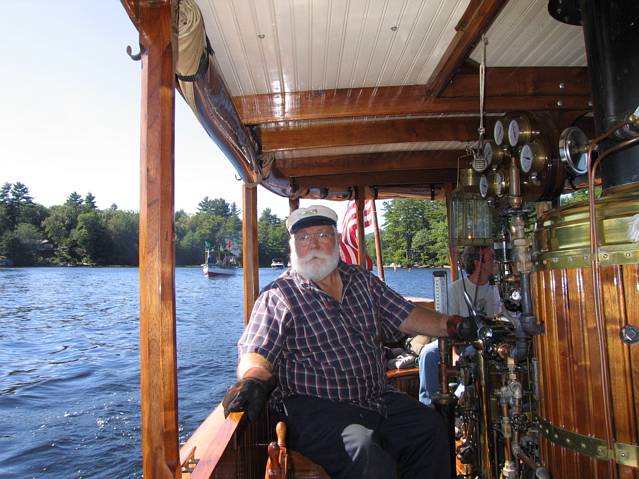 Click here Jump to pictures of the September 2005 Lee's Mill Meet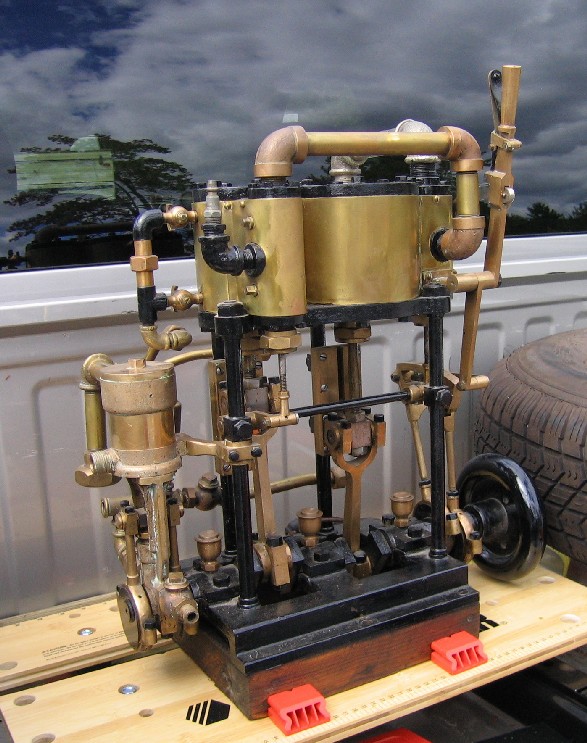 Click here Jump to pictures of the September 2006 Lee's Mill Meet
* * * * * * * * * * * *
A Special Steam-Up and Luncheon was Hosted by the David Thompson Family
on a Cool, Sunny March Day, 2010
play image or click http://youtu.be/kkNNCpcNjI0
---
Gabrielle and Bob Wallace
Host a Live Steam Meet and Pot Luck Supper
at their home In May each year
157 Old Route 109 in Moultonborough
call them at (603) 476 5685 for more information about the next meet
Click on the image below to visit the Wallace's May 22, 2010 meet in Moultonboro, NH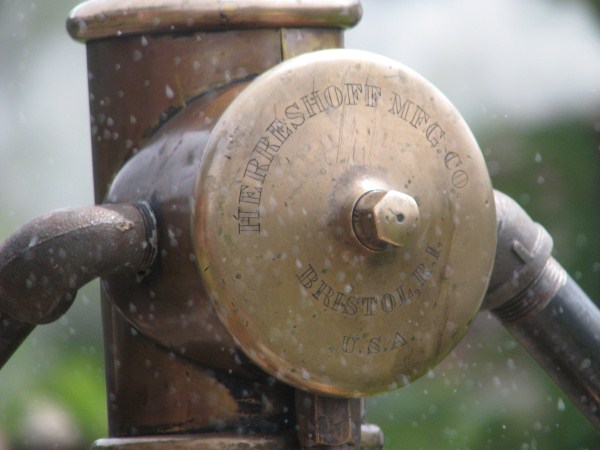 Click on the picture below for the operational engine display from 2009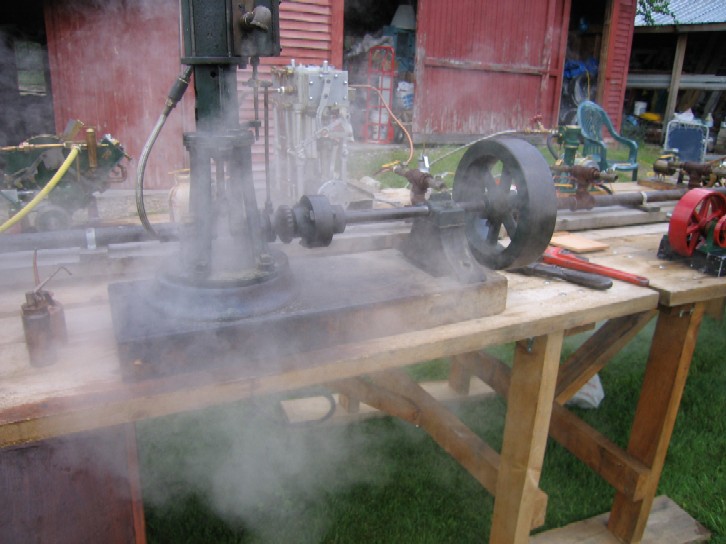 ***************************************** ENGINES ***********************************************************
Al Berry's new V2 Simple engine, my favorite Hasbroucke design
click image below to view video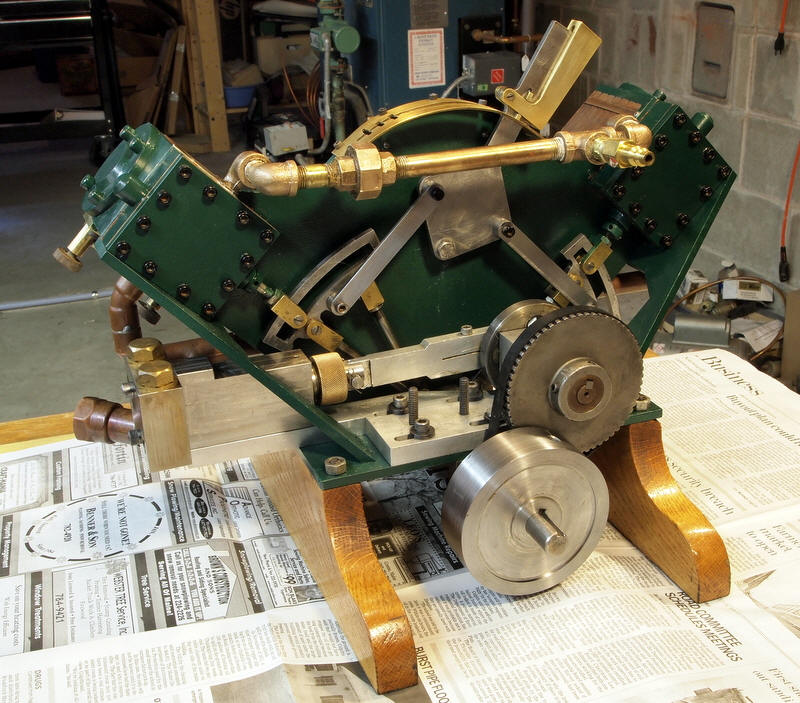 This engine has been sold
All Ray Hasbroucke designed engines are hand made with no castings and are usually made by the end-user for personal use in a boat
or for display. This is the most intricate of Ray's designs and, rated at 2 HP at 120 PSI, is perfect for a steamboat of 15-20 feet.
Completing this engine required over 400 hours of caring work by Al Berry, a retired master machinist, over a period of two winters.
See Ray Hasbroucke #8 engine design for specs and plan purchase at http://hasbrouck.8m.com/eng8.htm
Joe Bowen's Hasbrouck #5
Click on the image below for more pix and videos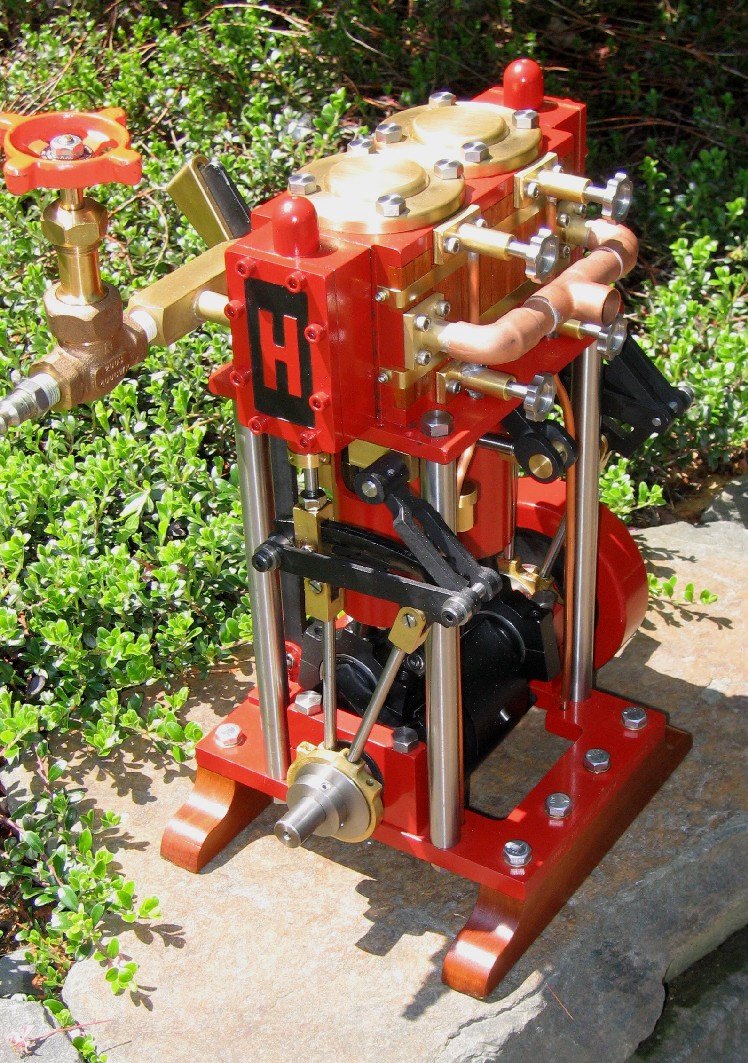 ---
Sadly, Joe Bowen, a master machinist, has passed away.
His last engine, a lovely museum quality 2 x 2.5" single, was about to be a component of a beautiful, light, single hander:
The engine pictured below, a sixteen foot "peapod" double-ender hull with fitted trailer
and a matched Roberts-type water tube boiler.
THESE COMPONENTS HAVE BEEN SOLD
To see more about this engine click the photo below.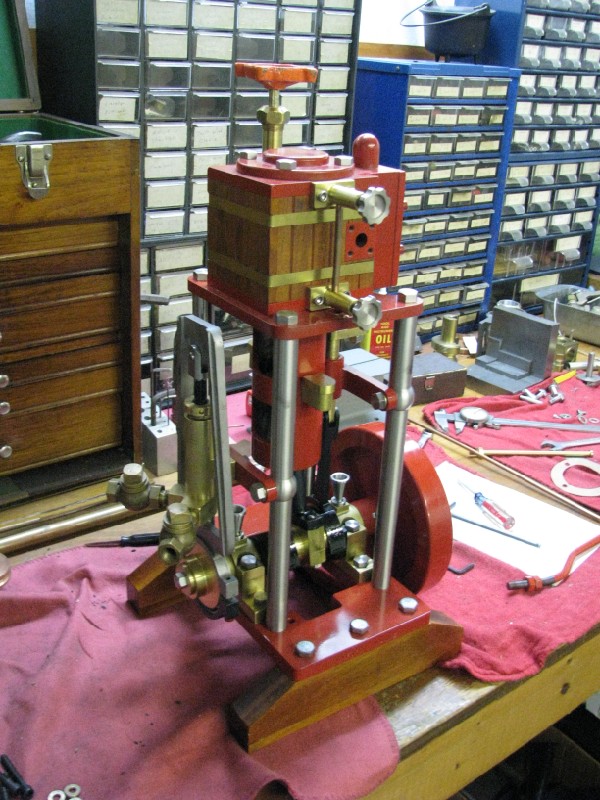 ******************************************************************************************
CARL KRIEGESKOTTE
SOLD HIS IMMACULATE NAVY "K"
SERIAL # 1123
---
Al Berry's sweet new 2 hp Hasbrouck-designed #1 steam engine
This is a perfect engine for a small boat of 15-20 feet

click on either of the above photos of the engine to view a video of this engine running and being reversed

Al Berry's beautiful little Hasbrouck-designed #5 steam engine
Video of engine being reversed click on photo of Al and engine below
This was the first time the engine ever ran on steam
Albert was pretty pleased!
A couple of years later Al had his own boat. See the Rise of the Derelict (above in the "Steam Happens" section)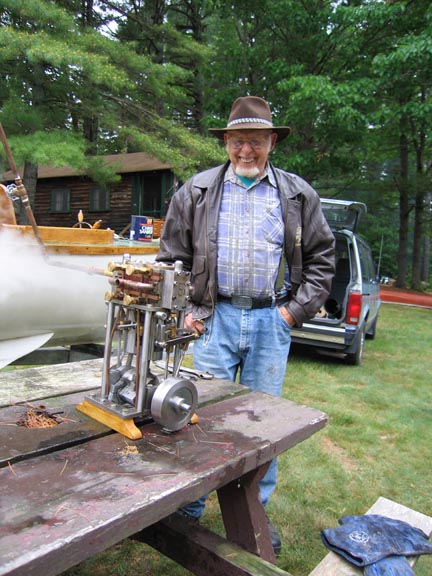 other still pictures of this engine click here
---
Christophe Carcenac de Torné ccarcenacdetorne@gmail.com , a French model engineer, is looking for information (mainly drawings) dealing with bronze cylinder castings for a triple expansion marine engine he recently acquired.
There are no markings on the castings nor was he able to obtain any drawings.
The dimensions are of the cylinders are:
- total cylinder block length: 11"
- HP Cylinder bore: 1"
- IP cylinder bore: 1" 7/8
- LP cylinder bore: 3"
- Stroke: 2"
(by the dimensions, it seems like it's possibly either English of American)

As you can infer, with the aligned cylinders being around 1 ft (30cm, the length of the caliper scale), this is quite a large model or, rather, a small launch engine. Here's a photo of the three cylinders in place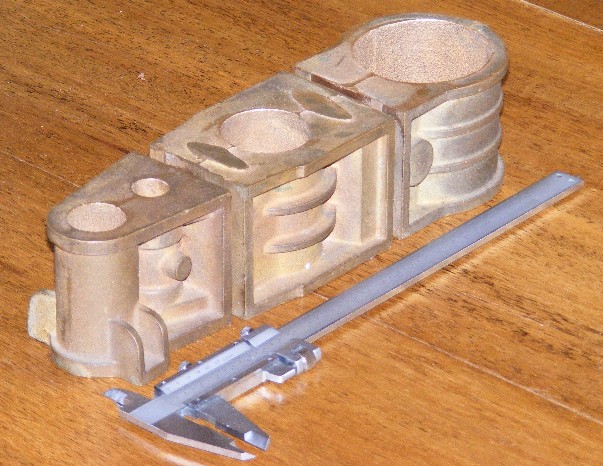 Other photos of these castings as well as a 3D CAD drawing of the set are to be found by clicking on the above photo.
If you have any plans, suggestions, or leads please inform Christophe directly at the above email address. Please cc email me so that we may follow his adventure on this site.
This should be quite a beauty when finished.
*******************************************************************************************************
Here are a few SHORT mpg videos taken during a pond rundfahrt with Nic M. (cameraman) and Gill W. (passenger)
click on a photo to download video
steampg1.mpg steampg2.mpg steampg3.mpg steampg4.mpg steampg5.mpg
---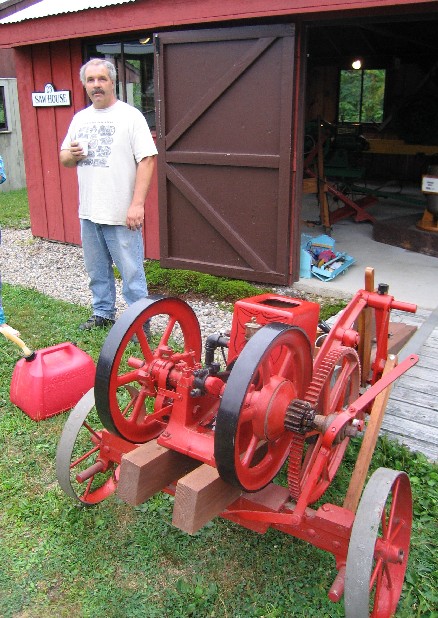 Click here for a few Old Iron pictures from 2005
---
And there are other means of steam propulsion, too!
Al G. at the reins of 20 rampant horses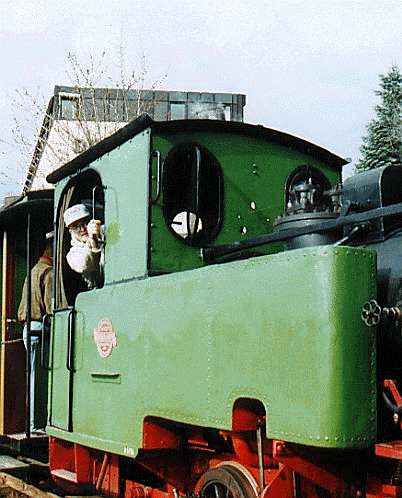 and in stereo
Then there are other steamboats, too!
uncle Reb Shawn Fergeson on the deck of the Pavonia
(seated, his hands folded in prayer)
A rare stereo photo taken shortly before he was pushed overboard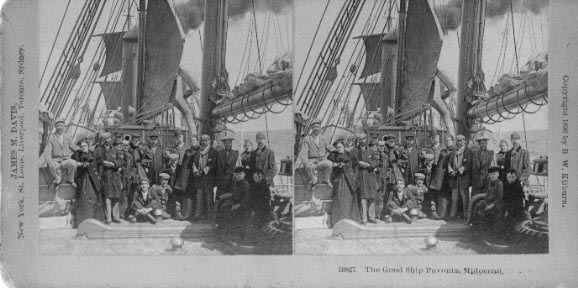 ---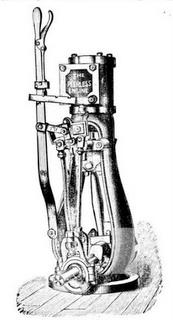 we now have the Google Books site which has
a gargantuan and growing collection of old books on-line free for your reading.
Click here to go to their search page and try locating a book on any topic.
I strongly recommend you use Calibre to search for, download, and organize your e-books.
It's totally free and searches many e-book sites finding wonderful resources.
Beware, some sites, like Amazon, will charge a small fee for books that are free elsewhere.
Many of the e-books have illustration or equation "glitches" that may limit their usefulness.
In some cases I have found that paying the small fee often results in reducing the glitches.
You can usually download .pdf books. However, since these files are page replicas they may not be very readable on a small reader.
---
Ginny Ryan, Sue Powarczynski at the dock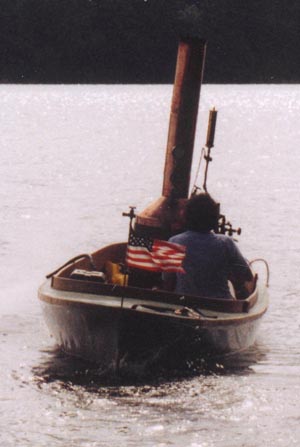 Maybe it's time for that diet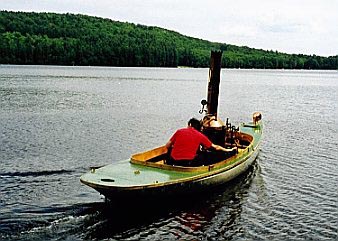 Hey Nick you got that engine ready yet!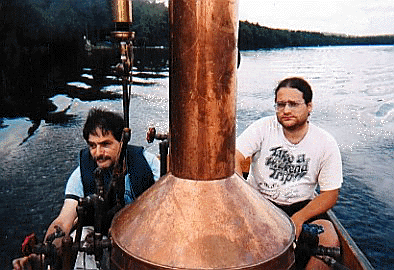 Ya know, if we could just put 2 more inches of pitch on that prop we'd be able to break out them water skis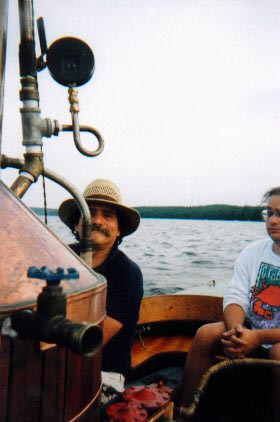 summer 98, watching the pressure climb and waiting for the pizza to get done.
Yup, these steamboats offer everything.
A quiet ride, a hot cup of expresso and a toasty pizza...all in the same package....Try that with yer damn infernal combustion, will ya!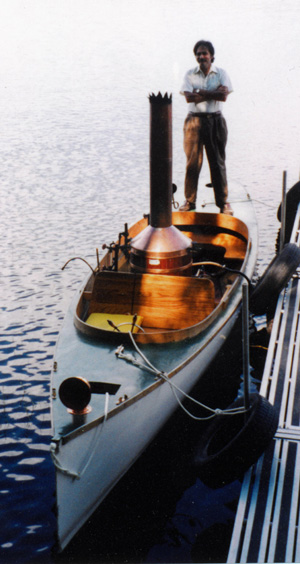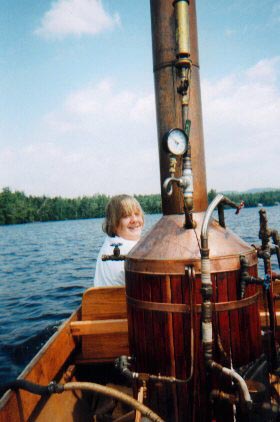 Kathy at the helm, Summer 98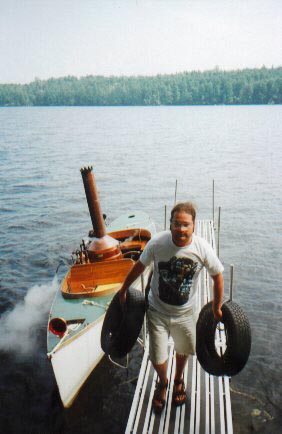 The annual tire rotation summer 98.
New radials improve turning significantly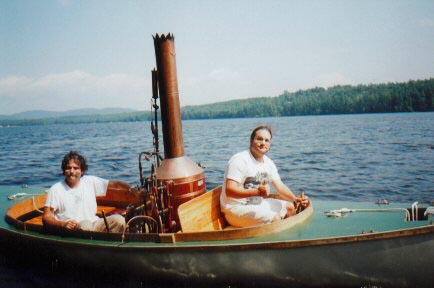 summer 98
Nick at the helm after our best time ever on the slalom course
Zero to six mph in forty five seconds!
Left my hair a mess and mild case of whiplash!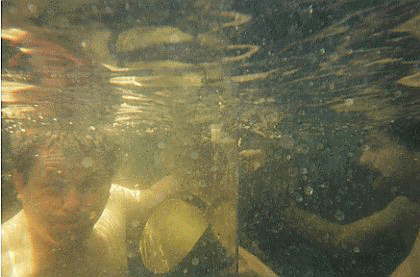 some repairs are definitely more fun than others!