OUR NEW KITTIES
HERMIONE (MINEY), ROBERTO (BERTO), AND RAYMUNDO (MUNDO)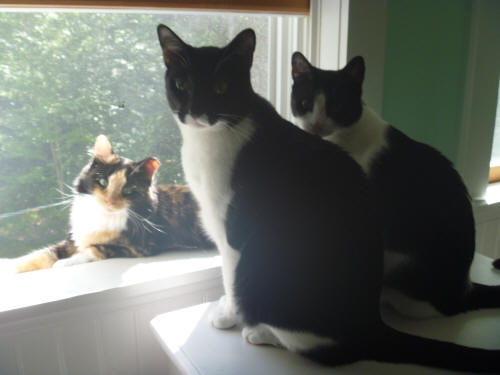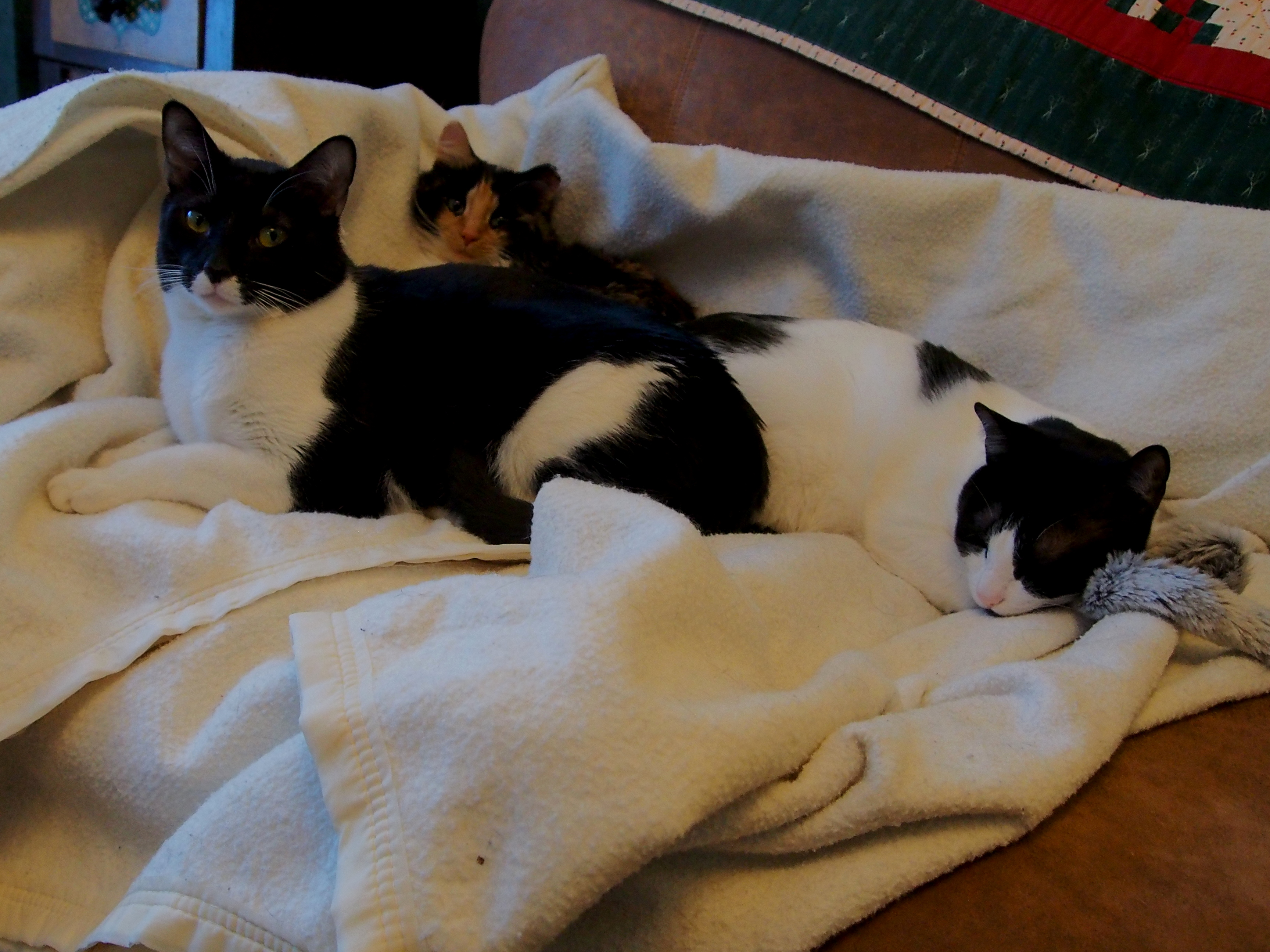 Berto and Mundo, our tuxedo boys, came to us after the recent hurricane, Maria, swept over Puerto Rico.
A gallant group of rescuers swept up unclaimed at-risk dogs and cats and brought them to Maine one at a time
Mundo (Raymundo, with the pink nose) arrived first and quickly settled in.
Delays in transport kept Berto (Roberto, with the black nose) in PR for another month
so his brother didn't remember him, at first. But about an hour later all memory returned and the boys
became inseperable, once again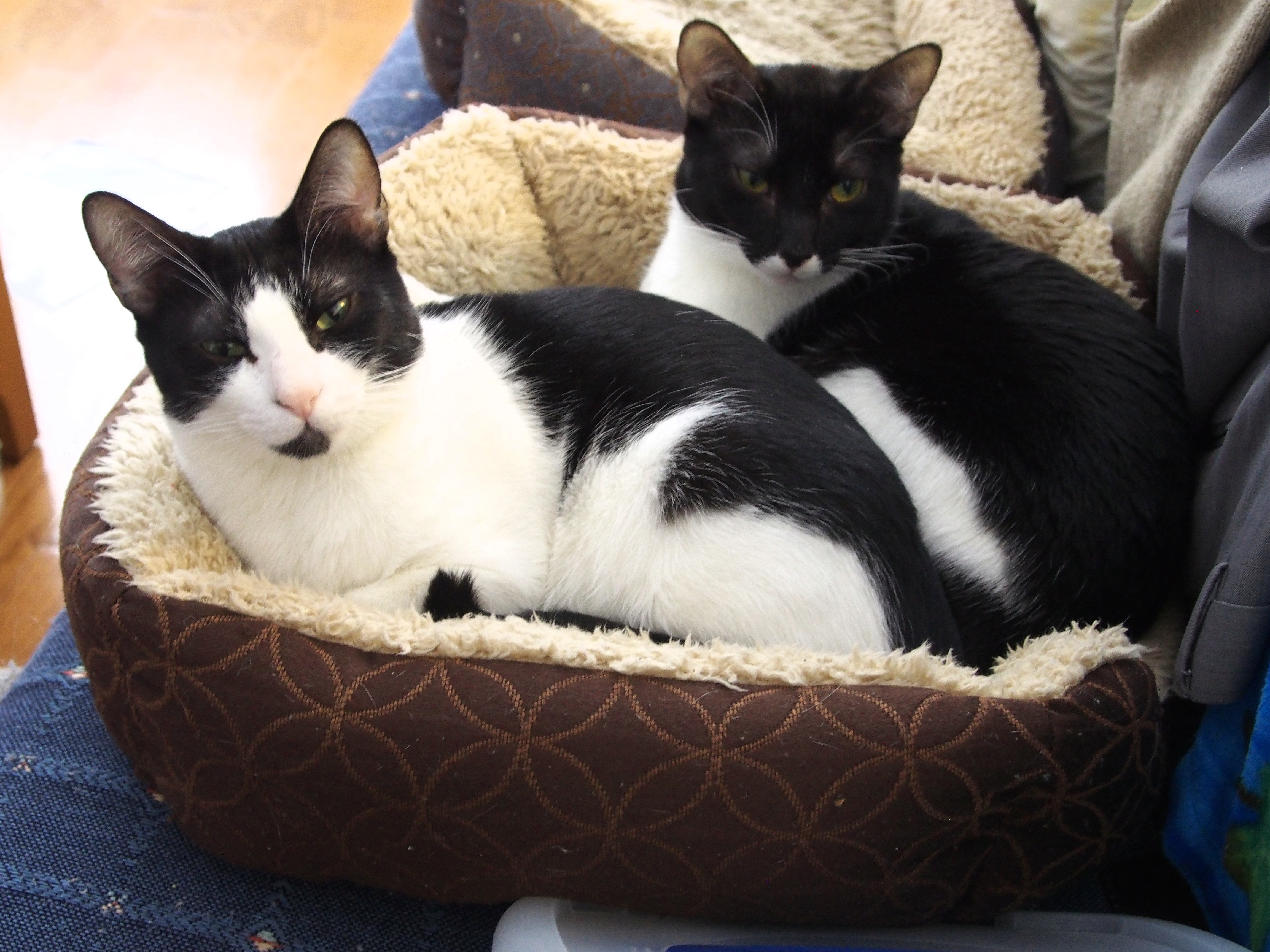 We discovered Hermione on January first when we went out to our woodshed at night to get logs for the stove.
It was -20 F out there. As we did we heard a little squeek. This kitty found us and was starving and injured. We brought her in and fed her.
It was then that we noticed her frost-bitten left ear and partly missing and badly injured tail, probably from attempted predation. Our wonderful animal control
officer carried her to the Harvest Hills Animal Shelter for quarantine, surgery on her tail and ear, micro chipping. We asked for first dibs on adoption if unclaimed
Over the week they tried to find her owner via their website, but nobody responded. It's hard to believe because she's a beautiful tortoiseshell part Maine Coon.
Sooo ... Hermione is now in our household and gets along well with the boys (see above picture).

The photo below shows Hermione the eve we found her, before surgery on her ear and damaged tail.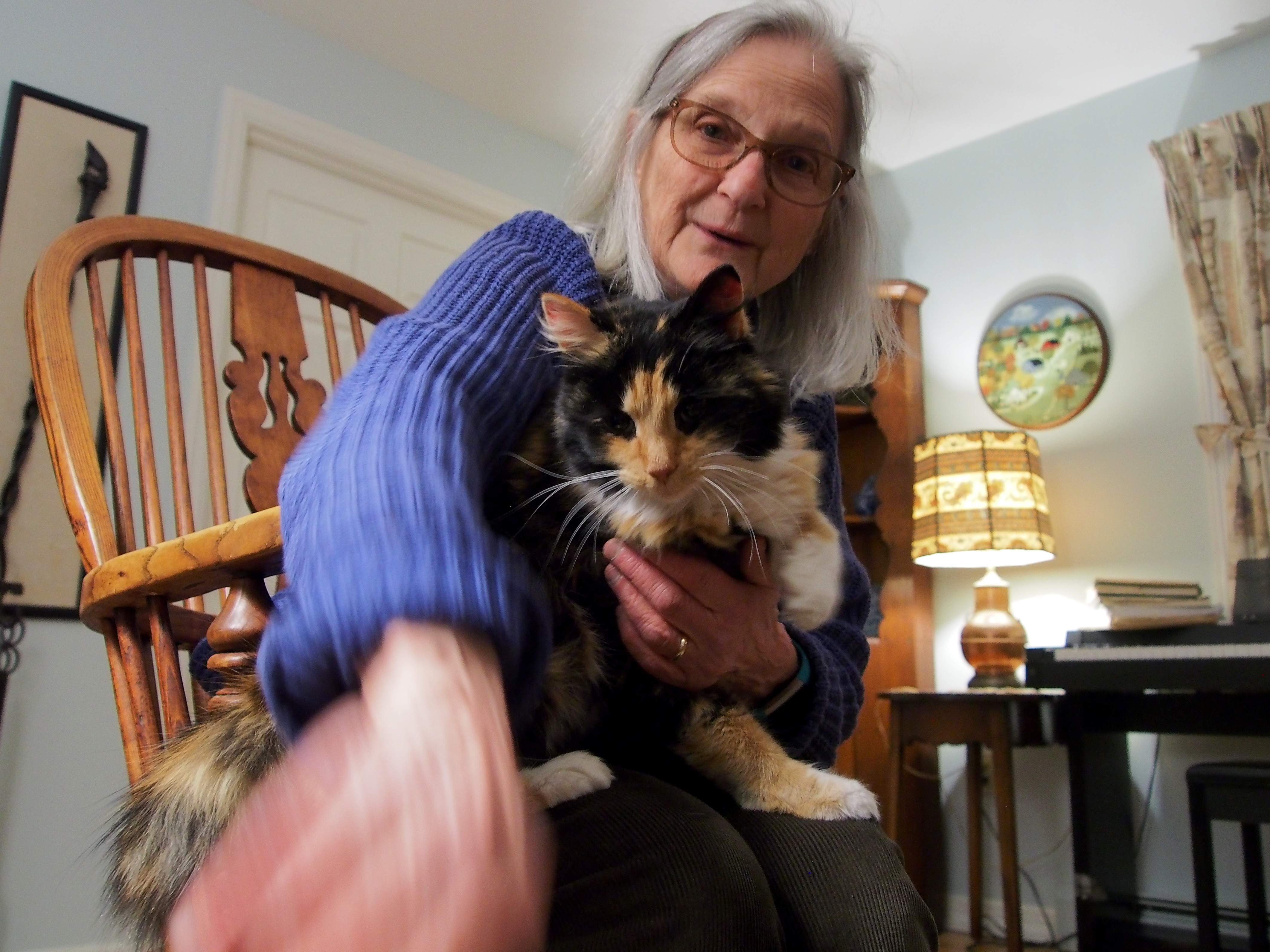 She is what we in Maine call "a real lookah"





---
MIKKI, MINOU, AND PENNY (BELOW)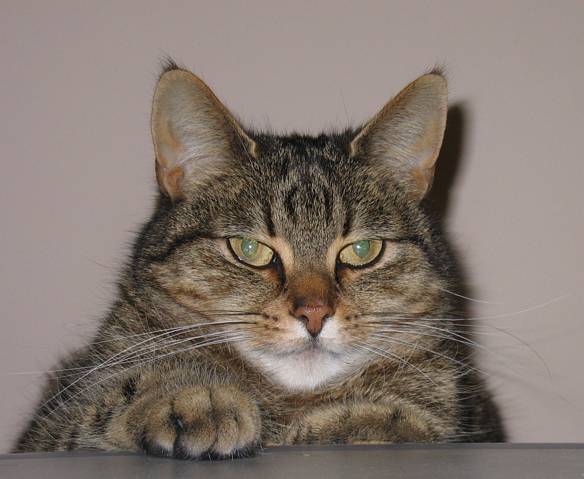 Minou


Sadly, our friend Mikki has passed away after a long illness
and a mere ten years as a member of our family.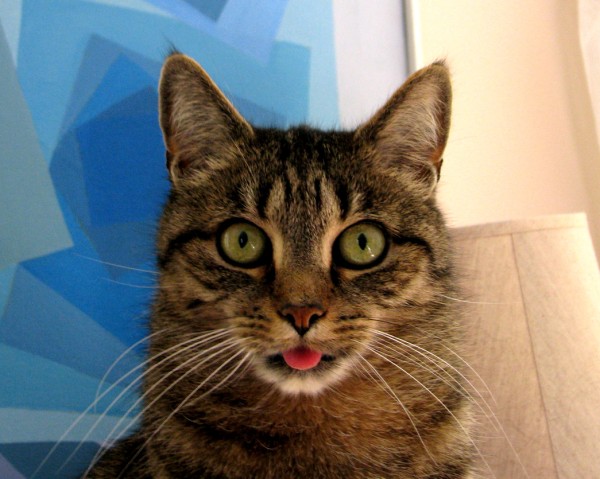 A few months after Mikki's death, a neighbor told us about a lady who had died and left a kitty that needed adoption.
So we ran over and grabbed her up and took her home.
Penny is about 8 years old and has spent her life in a small trailer with no other kitties.
She is very playful and inquisitive and likes people,
AND she's a little bit of a toughie
Sooo. . . she doesn't get along with Minou and the result is that we now have an upstairs cat, Minou
and a downstairs cat, Penny.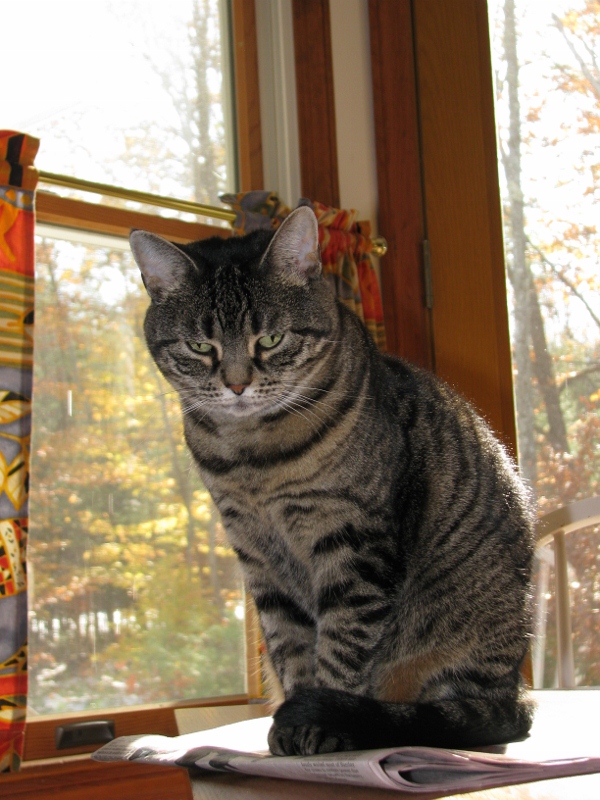 our kitty, Penny
Unfortuately, both Penny and Minuo are no longer alive
Mikki and Minou their first few days
at our house in Brussels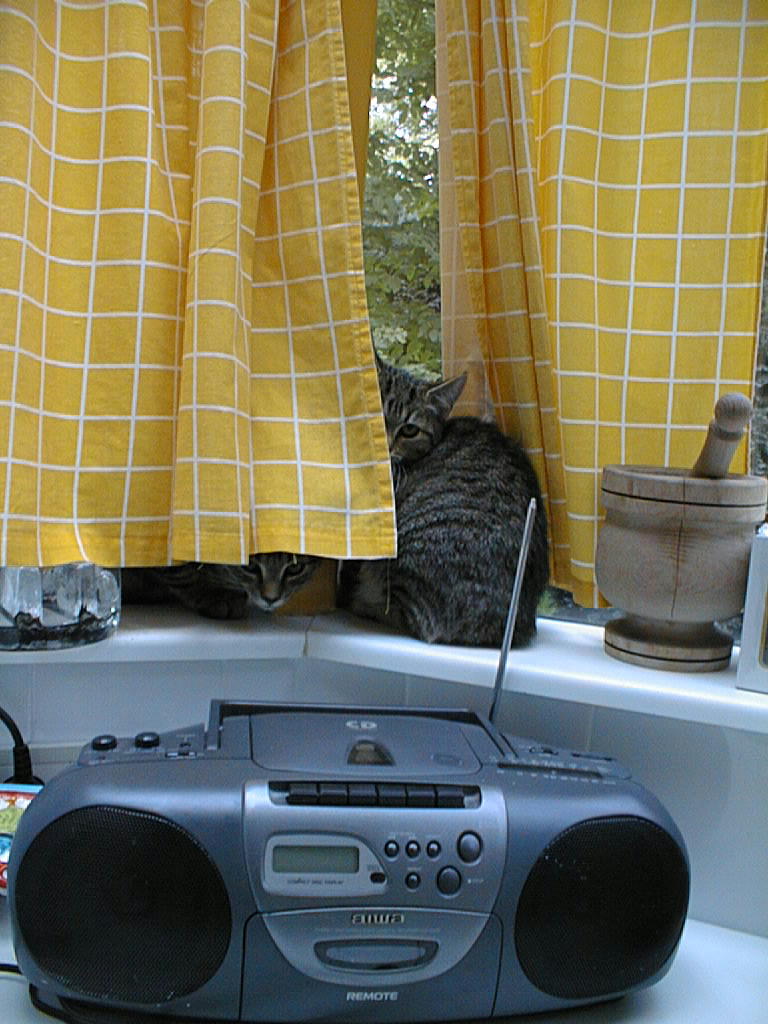 THEY WERE REALLY WORRIED ABOUT STAYING WITH US
AND SPENT MOST OF THEIR TIME HIDING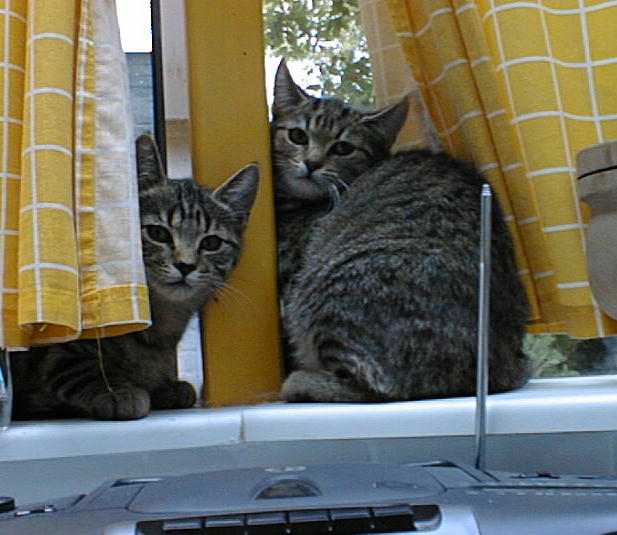 THEN, AFTER ABOUT TWO WEEKS, THEY BECAME MORE VISIBLE,
BUT STILL A LITTLE WORRIED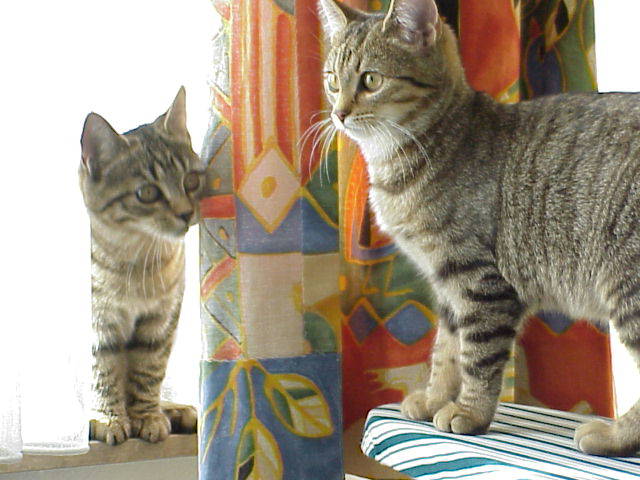 AND NOW, THREE WEEKS LATER THEY OWN THE PLACE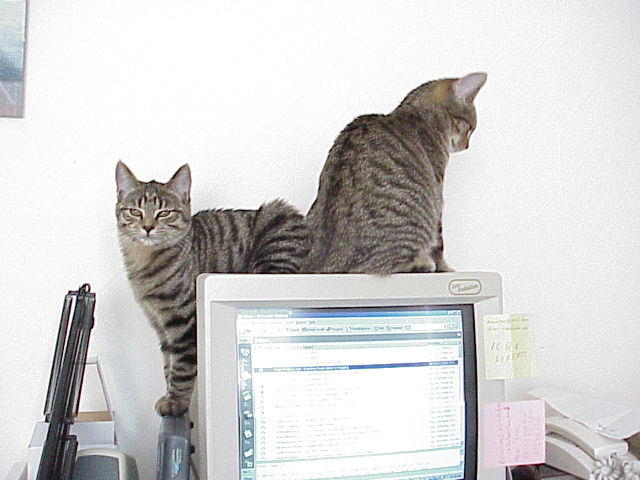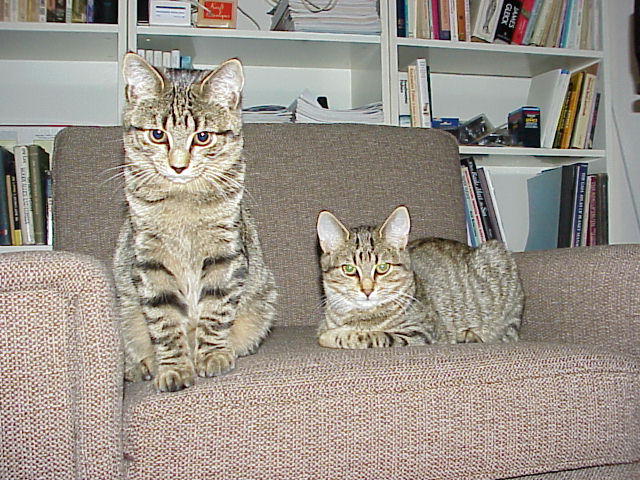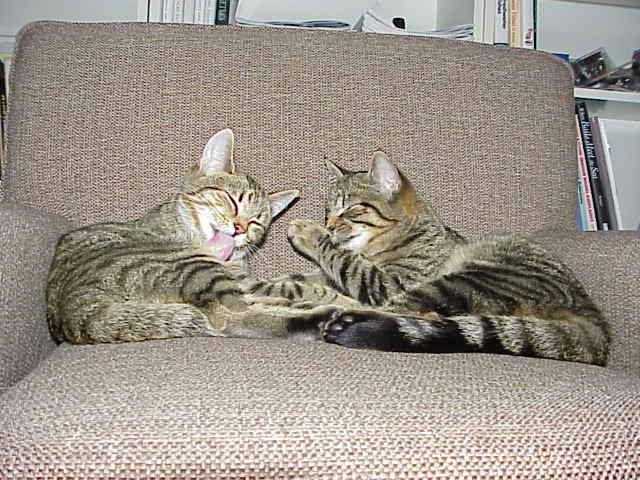 MINOU (ABOVE, ON THE LEFT) IS A GIRL
HER STRIPES ARE FINER AND SHE APPEARS LIGHTER
AND
MIKKI (ON THE RIGHT) IS A BOY
HIS STRIPES ARE BLACK AND WIDE SO HE APPEARS DARKER
THEY SPEND MOST OF THEIR WAKING HOURS PLAYING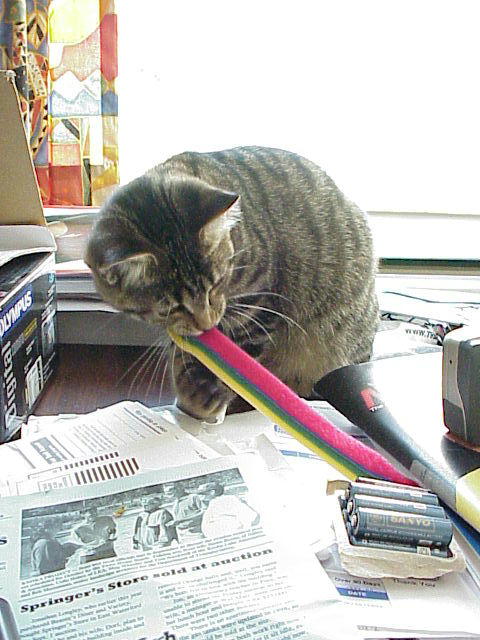 WASHING
CLICK ON THE IMAGE BELOW TO GET AN MPEG MOVIE OF MORE
KITTY TOGETHERNESS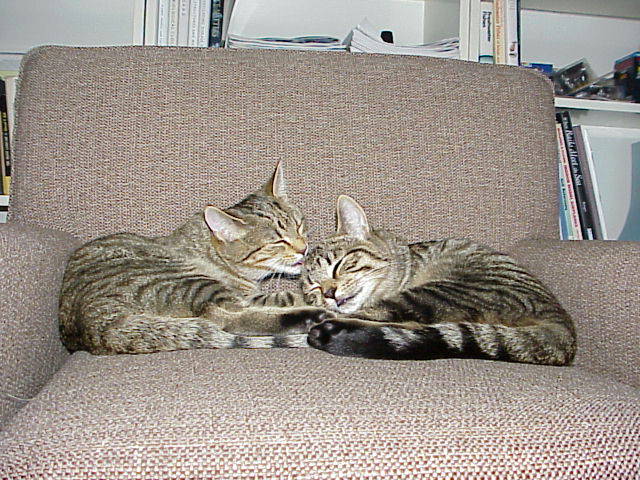 AND NAPPING UNDER THE WATCHFUL EYE OF SYBIL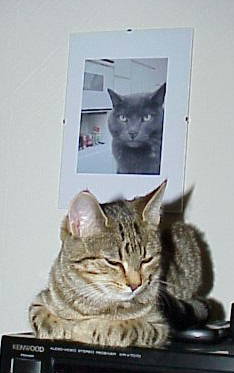 CLICK ON THE ABOVE PICTURE FOR AN MPEG MOVIE OF MOUSE KILLER TRAINING


and now for a perfect rectangle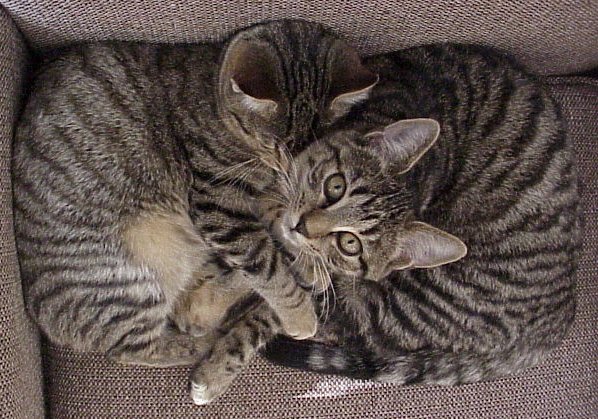 It's now about ten years later and they are still wonderful kitties.
So here are a few more recent photos of Mikki and Minou plus Vish, tootsie, and Lewnes.
Yes, Mikki's tongue is nearly always sticking out!
| | | |
| --- | --- | --- |
| | | |
| | | |
| | | |
| | | |